Contents
Member Management
Open the Team workspace and navigate to the "User settings" page.
Click on "Invite Members" to invite new members to join the team space.
Enter the email addresses of the members you wish to invite, set their permissions, and click "Send invitation" to send the invites.

Admins: Help manage members by adding/removing them from a workspace and groups. Membership admins do not have access to workspace settings.

Tips:We recommend assigning department leaders as Admins to have them responsible for inviting and managing members within their departments, thereby reducing the workload for the Owner.

Members: People on your team who can create and edit files, but not edit settings.

You can also input a list of emails.

Invited members will receive an email invitation with a link to join the team space. They can sign in with their existing Notta account or create a new one.
Group Management
In order to streamline permission allocation, we recommend creating a group for members belonging to the same department. This way, you can easily assign permissions by selecting the entire group.
Click on "User settings" and navigate to "Members"
Switch to "Group" page and click "Create a group"
Enter the group name (department name) and select the members(department members), then click "Create" to complete creation.
After creating a group, you have the ability to rename the group, delete the group, and add members to the group.
Department Folders
In order to organize and categorize departmental information, we recommend creating a separate folder for each department. This allows for better management and classification of departmental data. You can refer to this article for a comprehensive guide on file management operations.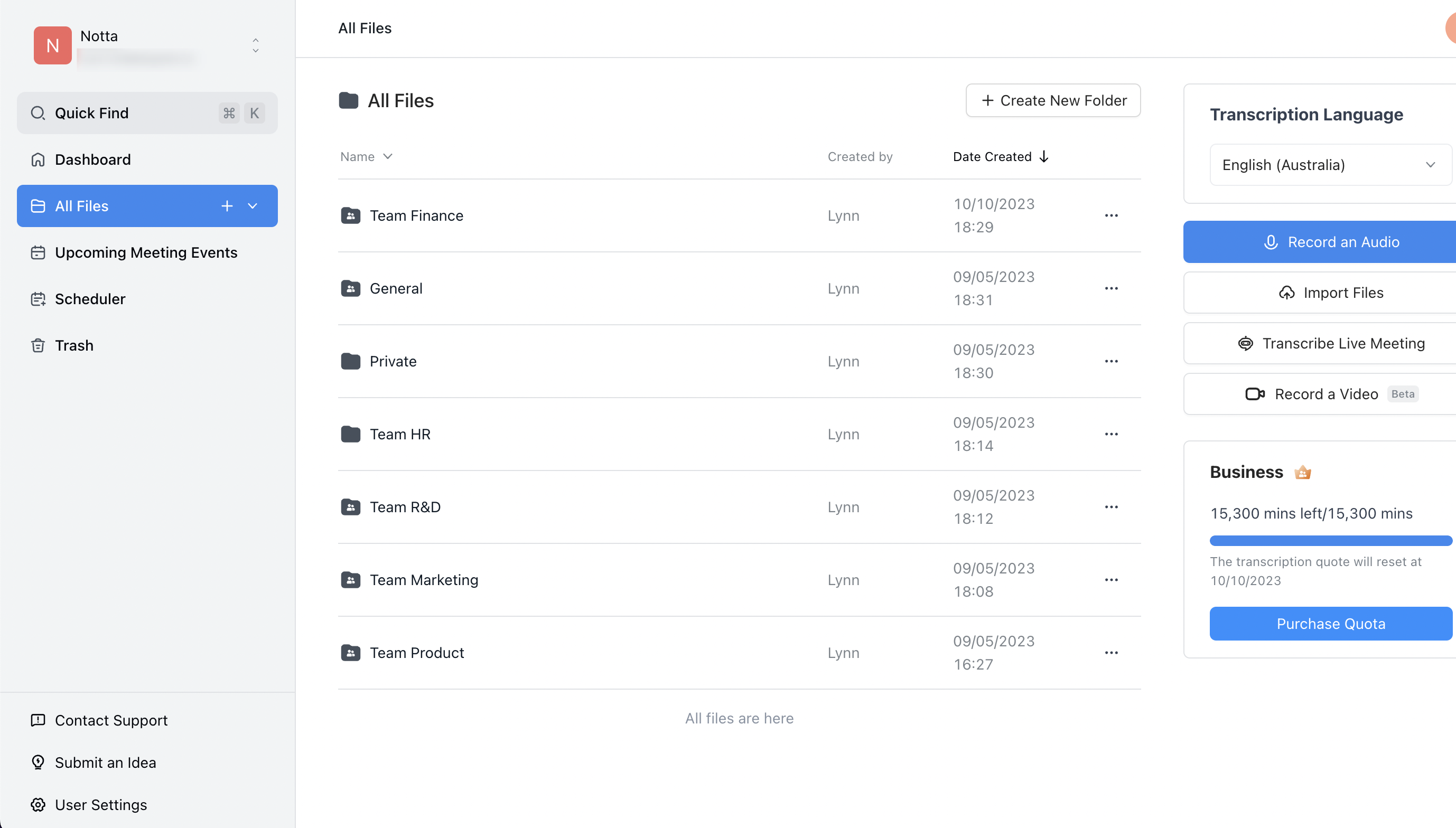 Enter the "All files" page and click "Create New Folder".
Enter the folder name(department name) and select the corresponding department group. You can customize the folder's permissions. Then click "Create" to successfully create the folder.