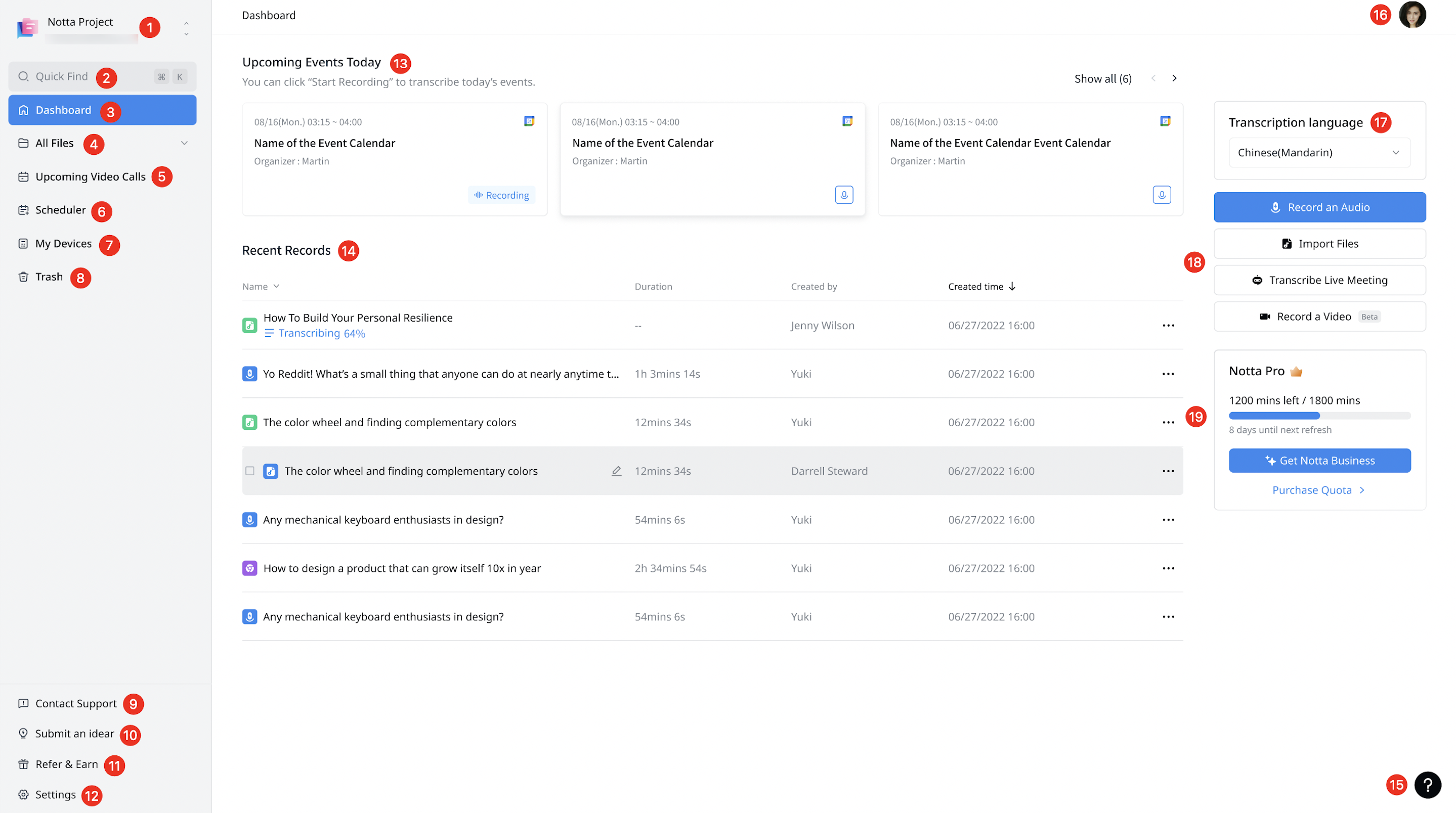 Workspace name: Displays the name of your workspace and your email address. Click to switch workspaces.

Quick Find: Search recordings or folders within your workspace. Easily locate specific files or folders for efficient organization.

Dashboard: Click to display the home screen. Access the central hub of your workspace for a comprehensive overview.

All Files: Create new folders and manage recordings by folder. Keep your files organized and easily accessible.

Upcoming Meeting Events: Displays online meetings scheduled in your integrated Google Calendar or Microsoft Teams. Stay on top of your upcoming meeting events without leaving the workspace.

Scheduler : Your scheduling automation tool. Streamline the process of managing appointments and meetings.

My Devices: Displays a list of devices linked to your Notta account when logged in. Conveniently manage your connected devices within the workspace.

Trash: Restore or permanently delete files from the trash to maintain data security.

Contact Support: Provide feedback, suggestions, or ask questions about the product here. Easily access support for prompt assistance.

Submit an Idea: Send feature requests to the Notta product team. Contribute to the development of the Notta by sharing your ideas and suggestions.

Refer & Earn : Refer your friends and get free transcription quota. Enjoy additional benefits by referring others to Notta.

Settings: Access your account information, workspace settings, subscription details, and other configurations. Customize your workspace to suit your preferences

Upcoming Events Today: Displays today's meeting events when integrated with Google Calendar or Microsoft Teams, facilitating quick recording of today's meetings.

Recent Recordings: Shows recent recordings. You can check recording information such as type, title, length, creator, etc. The icon changes based on the recording type.

Learning Center: Opens menus for Help Center, Feedback, Updates Info, and more. Access valuable resources and support to enhance your experience with Notta.

Profile image: Displays your set profile image. If no image is set, the initial of your username will be shown. Click to open settings and personalize your profile.

Transcription Language: Set the transcription language. Choose the language that best suits your needs for accurate and reliable transcriptions.

Select transcription method:

Record an Audio: Click to start real-time recording and transcription. Capture and transcribe audio content seamlessly.

Import Files: Upload existing audio/video files or paste Dropbox/Google Drive links for transcription. Easily transcribe files from various sources.

Transcribe Live Meeting: Paste meeting links from Zoom, Microsoft Teams, Google Meet, Webex, to record and transcribe all participants. Effortlessly transcribe live meetings.

Record a Video: Record PC screen, webcam video, and microphone audio together and transcribe. Capture and transcribe video content with ease.

Plan and transcription minutes: Check information such as the current plan and remaining usable minutes. Stay informed about your subscription and transcription usage.